Maintenance of Sunlite's Slim 3-Watt Penlight

One set of batteries can operate the light continuously for 5 hours.
The penlight may flicker on and off if:

The batteries are weak
The batteries are damaged or dented (denting frequently occurs at the positive end "tip")
The battery contacts are covered by dust or dirt
Features of Sunlite's Slim 3W Penlight that prevent denting or damaging the batteries
A spring soldered to the switch end helps with shock absorption.
A spring soldered to the contact pad on the LED head helps with shock absorption.
A protective rubber sleeve that slips over the LED head further absorbs shock and limits impact damage.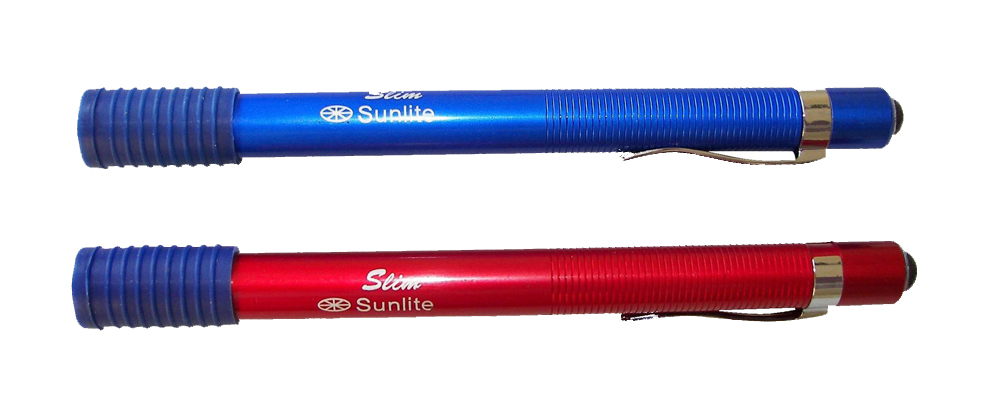 Features of the Slim Penlight's LED head
Extremely rugged; made of a solid piece of copper
Built-in, nickel-plated reflector
Built-in, thick, toughened glass lens
LED heads are available in white light, a variety of colors, and ultraviolet (UV)!
Wavelength options include:
A flat glass lens is our default standard for white LED heads
A convex glass lens is our default standard for color LED heads
Lifetime Warranty
Sunlite has a lifetime warranty on the LED head for our Slim Penlight.  This warranty covers everything except for damage caused by battery leakage, water leakage, or obvious abuse.  Examples of damage caused by battery leakage are shown below.  If battery acid penetrates into the back of the LED head, it may completely short the LED chip (shown at left) or short the gold bonding wire (shown at right).  Please contact us for info on our reduced pricing exchange program if the LED head is no longer under warranty.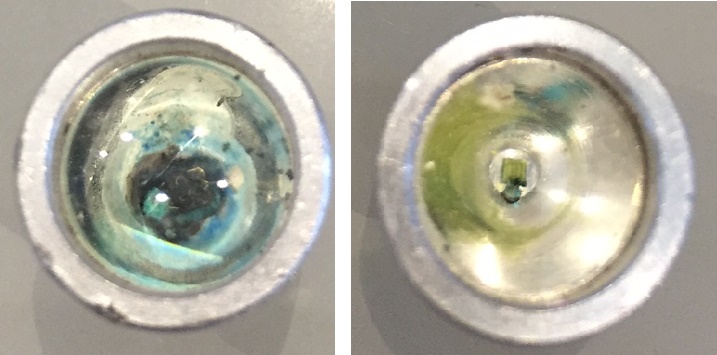 Extruded Aluminum Housing
The penlight housing is made of extruded aluminum and is embedded with a threaded copper piece that receives the LED head (or the optional flexible tube).
Sunlite will replace the housing free of charge if the threaded copper piece ever comes out of the housing.
Warranty on Sunlite's Blue Point ECFB200BL and ECGB200S Penlights (sold through Snap-on Tools)
You may contact Sunlite directly for warranty information on the 3W LED head (ECFB200-1) or penlight housing.
Alternately, you may contact your local Snap-on dealer to handle warranties regarding Blue Point Penlights.  Snap-on Tools has the ECFB200-1BL (blue housing) and ECFB200-1S (silver housing) parts in their system for easy warranty.